Pickleballlane is reader-supported. If you click a link on this page and make a purchase, we may receive a small commission at no extra cost to you.
Pickleball is a fun and upcoming sport which is very exciting. Pickleball is a unique mix of badminton, table tennis and lawn tennis. It has gained a lot of popularity over the past decade.
There was a time when Pickleball was played only locally and barely anyone knew about it. Over the past few years, the popularity of Pickleball has increased tremendously. There is a lot of interest for Pickleball and people are playing it for leisure and professionally.
One of the best advantages of Pickleball over its other cousins, ping pong and tennis is that it can be played by all age groups. It is very simple and easy to learn so it is great for beginners. The paddles can be light and you can play a match where you don't need too much power so it's perfect for kids and beginners. If you want to play power shots and have a good cardio exercise, you can play a fast and challenging game. The versatility of this game when it comes to the player's expertise levels and the ease of playing it has slowly made it a favorite for thousands of players.
One issue though is that since Pickleball has gained so much popularity, there are hundreds of Pickleball Paddles on the market today from dozens of brands and manufacturers.
Choosing the Pickleball paddle which will be perfect for you in terms of construction, material used, weight and size gets difficult.
To save you time and to make sure that you get a Pickleball paddle that is most appropriate for you, we have researched the best Pickleball paddles in the market.
Each of the below ten Pickleball paddles are unique and each brand is perfect for a certain type of player. Read on to decide which is the best Pickleball paddle for you in 2021.
Engage Encore Pro Pickleball
Top national players gave inputs to develop the Encore Pro Pickleball Paddle. Today the Engage brand is being used by topmost pickleball players. This paddle has many advanced qualities, like the sweet spot is extra large, and there is an enhanced touch whenever the ball hits the face of the paddle.
The paddle comes along with a specialized skin that Encore is famous for. This skin allows the ball to spin well when hit. The combination of polymer material and composite makes it a superb paddle that gives control of the shots and at the same time gives enough power to deliver powerful shots.
This paddle's dimensions match that of Encore's original paddle. However, their weights differ. The Encore Pro Composite Pickleball Paddle Weighs around 8.4 ounces and is 8" wide and 15-1/4" long. The length of the handle is 4-3/4".
The grip of the handle is medium which means it can be suitable for most hands. This paddle is very flexible and is perfect for a variety of hits, be it short or line hits.
It is the ideal choice for those who wish to improve in this game and also for those who would like to play with gear normally used by professional players. The choices of colors available for this paddle are red, purple, black, and green fades.
There are no real drawbacks to the Engage Encore pro. It provides control and power combination in a great way to players. And also the sweet spot is large. The face of the paddle made from graphite is actually smooth which offers just the right amount of texture required to spin the ball. And its grip gives great comfort to your hand.
Onix Composite Z5 Pickleball paddle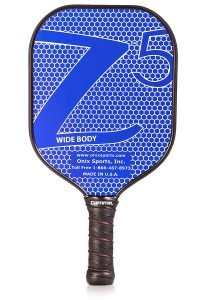 The Composite Z5 is heavier than the Graphite Z5 by Onix. Both the paddles are identical in most ways apart from its weight, the materials used to make them and their construction. 
The Composite Z5 is perfect for players looking for that extra oomph while delivering their shots. Its honeycomb core is made using solid Nomex. This offers a solid foundation for playing using the fiberglass paddle face. 
There is a graphic on the paddle face which looks like a cluster of cells which is topped with a huge "Z" and the number "5" in attractive text.
This paddle offers a lot of power because of its size being between 8.4-9.2 ounces. The width of the paddle is 8-1/8″ and it is 15-1/2″ long. Its handle length is 5″ which is a good length to provide enough reach. The handle has a cushion wrap that is perforated. This makes the circumference of the paddle's grip fall in the medium size category. This paddle is loved instantly by players. This paddle costs a bit less as compared to its graphite sibling.
Because of the wide-body shape, it is best for beginners. The additional weight helps provide extra power to the shots and a good pop sound.  As per the price when you compare it to other pickleball paddles of its range, it is very affordable. It retails for lower than the price of the graphite paddle. But, weighing more than 8.5 ounces is considered to be a bit heavy in case of some players.
Prolite Crush Powerspin with SPINtac Pickleball Paddle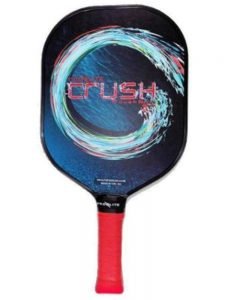 This CRUSH Paddle is beautiful in looks. It is good enough to be framed. But its excellent performance will make you want to play with it immediately. The composite paddle wide-body has been designed keeping in mind that it has to offer fantastic control and surprising power. Its flashy look made using best quality materials will make you a pro at delivering shots.
The paddle's head is light which makes it possible to respond to all shots quickly. Its face is textured and broad. This provides enough room required for slicing and makes use of the sweet spot which is large. 
Its panels are made using SPINtac fiberglass which is durable. The small size grip has stylish graphics. This paddle is made using the best finesse materials which provide great power to each shot. Today some paddles are designed by keeping in mind either power or touch. But this paddle is a good combination of both. Most players find it as a good all-round high-performance paddle suitable for women, men, and juniors at 4 1/8″.  But those with larger hands can add an overgrip easily to make its size fit them.
The good part of this paddle is its long handle. This length is the same as other high-quality Prolite paddles.  Tennis players learning to master pickleball find this paddle more suitable because it is narrower and longer in comparison to other paddles.  Its thick guard may sometimes hamper the accuracy of the shot.
PROLITE Rebel Power Spin Composite Pickleball Paddle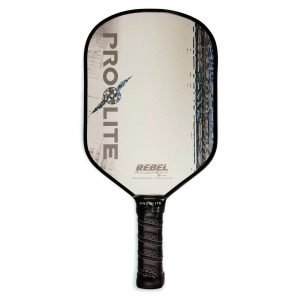 The Rebel Power Spin Composite Paddle will make you appear different on the Pickleball court because of its style. This paddle uses Pro-Lite's Quad Core polymer core. This type of core is very durable.
The paddle has a strong heart and one that makes less noise. The textured fiberglass paddle's face helps add spin to the shots easily.
It offers a far reach because of its length is 16″. This helps while replying to tough shots. Its unique edge guard is low profile which allows the player to have a good amount of surface area. The paddle weighs around 7.8-8.2 ounce. The grip of this paddle is comfortable and of medium size. Its modern graphics will make you feel like a superstar. This pickleball paddle is like the bad boy/girl of the pickleball world. However, it is very good and reliable to play with. The Rebel paddle has undergone testing of the USAPA. They meet all the required specifications. This paddle is available in four different colors – gold, blue, red, and purple.
This paddle has a textured surface which offers extra spin control. Plus the rounded design allows the player to have a bigger sweet spot. The long length of this paddle needs narrowing to meet the pickleball paddle requirements set by the USAPA.
This combination is a bit tricky. The paddle's long length helps provide a far reach and good power for these long shorts. But, the narrowing of the paddle's length doesn't allow beginners to master it with ease.
Onix Graphite Z5 Pickleball Paddle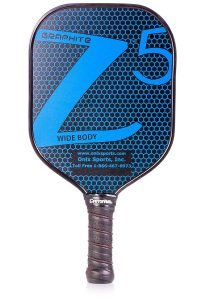 One of the best sellers of Onix is the Onix Z5 pickleball paddle. It is a commonly used paddle by players all over the USA. You will be able to easily recognize the paddle from far because of the letter 'Z' written on the paddle's face. All types of players use it and it is seen in many local and national tournaments. This Graphite Z5 paddle is the best pick for a person who prefers a good graphite paddle with a conventional wide-body shape.
Its average weight is just below 8 ounces. This paddle weight is favorable for beginners to players who have crossed over from other racket games like lawn tennis. You can it to other similar white body shaped graphite paddles available in the current market.
Its wide body shaped paddle is supposed to be the most commonly used shapes for building new paddles. Apart from that, it is a highly versatile paddle too. Even though there are many other elongated shaped paddles available, most players still like the simplicity of the Onix Graphite Z5. In fact, beginners will find it easier to play with a paddle whose hitting surface is large.
This Graphite Z5 paddle's main advantage is that it has a very balanced feel. And it also gives a lot of control over the delivery of the shots. Its graphite core makes it lighter than composite paddles. This is a boon for players suffering from injuries of the elbow. It makes the least noise and can be preferred for indoor games in gated communities. The only disadvantage it has is that some players may not get the desired amount of power needed to deliver their shots.
Engage Poach Advantage Pickleball Paddle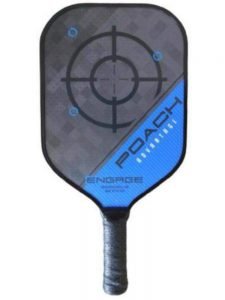 It is the first paddle which has the surface skin made of 6 layers is the Engage Poach Advantage. The surface skin is nothing but the face of the paddle. Most paddles use a maximum of two layers, but this paddle's proprietary "Variable Release" surface uses 6 layers. This is a creation of Engage offers fantastic ball power and responsiveness. And in touch shots, the feel is very soft. The paddle has a refined texture that helps the ball to spin very well while still following the guidelines set by the USAPA.
It is a lot of fun to play with this paddle. The paddle has two weight categories. Lite is a paddle weighing 7.5-7.8 oz. and the other paddle called as the Standard weighs 7.9-8.3 oz.
This allows you to choose a paddle that gives you speed and power, or you could opt for the one that has more strength in each swing. The paddle's grip handle is 5" long while the face is 8"wide. This width of the paddle face provides a sweet spot and a good surface area. There is a small strip of color which is near the lower part of the face which has the paddle's name displayed on it.
This paddle design offers excellent reach for a paddle while making sure it is approved by the USAPA. It is very versatile owing to the Control Pro polymer core. The paddle is able to absorb the vibrations of the shots and is able to dampen the noise. The only issue is that it has a narrow sweet spot which needs the players to make accurate shots.
ProLite SuperNova Black Diamond Pickleball Paddle
The ProLiteSuper Nova paddle is all set to dominate the pickleball paddle market. It has all the features that can help players improve their playing skills on any pickleball court. From its durable honeycomb core made from Quadcore Polymer to its beautiful face made using 100% carbon fiber, it serves its purpose.
The paddle face is just right for enhanced spins and finesse shots.  Its core helps in having a longer life and provides a lot of power to the shots. It is termed as a star which on exploding becomes very luminous. It is described this way to relate to Simone Jardim's, the ProLite Pro& Women's National Champion, style of playing.
The materials used in making this paddle are the same as the ones used for the Titan Pro. The playability of the SuperNova has been proven scientifically. The paddle's face is one-of-a-kind. Its smooth glossy surface is surprisingly able to grab the ball. Prolite's vibration absorption system and its carbon fiber help in reducing chronic wrist pain and tennis elbow. This is possible because energy is dispersed throughout the paddle's every fiber.
This paddle is a bit light. This is good as it causes less strain for the forearm by having it held in the right position. However, it is heavy enough to be able to absorb the impact of powerful shots.
It is available in 4 different colors: Orbital Orange, Radiant Red, Galactic Green, and, Brilliant Blue.
The handle of the SuperNova paddle is long and has a bigger sweet spot. The surface is quiet. Players love its long handle. But, since the shape of the paddle is square, the reach gets limited.
Pro-Lite Titan Black Diamond Pickleball Paddle
The Titan pickleball paddle is more stylish than the original TITAN. It has a few colorful graphics added by Pro-Lite. It is constructed using the finest material available. This one is indeed different from others. It is technologically beautiful like no other.
Its quality of design, workmanship, and materials used is only the best. It has been made with a lot of love. The surface is made of 100% high-quality, pure carbon fiber. This means the spins will be enhanced and there is better absorption.
Its Polymer Core is the strongest. It's a very elegant and modern looking with its sleek design, balanced sweet spot, and large face. Restricted communities approve its use as it is the quietest of the paddles.
Another great feature of this paddle is that the vibration dampening system and the carbon fiber alleviate chronic wrist pain and tennis elbow by dispersing energy throughout the paddle's every fiber.
This paddle is designed using material of high-quality in order to help you better your game.  The grip is medium-sized and the paddle is of average weight. This allows all types of player's perfect balance. The guard is razor-thin and offers a clear surface for hitting. At the net, players get optimal control while still providing the power needed to play from the court's back end.
Advanced Recreation Design ARD HF100 Fiberglass Pickleball Paddle
ARD's quietest and lightest paddle is the HF100 Fiberglass Paddle. Its core consists of a honeycomb made of polyethylene honeycomb. This helps sound and shock absorption. The face made of fiberglass materials that are woven offers a lot of comfort and control. You will know the difference between this paddle upon playing with it.  Its polystyrene grip mold and acrylic bumper absorb vibration. There is something special about ARD HF100. The main attraction is its 'throat' design. The section of the paddle connecting the face of the paddle to the grip is called the throat. It is like the paddle's neck which connects the body to the head. The notable difference that ARD made is by designing a separate piece to hold and connect the paddle's face to its grip. As per ARD, only their company has this exclusively designed piece. A paddle with a throat helps in dampening the shot vibrations. It also helps in absorbing the mass better to provide stability.  And better stability means you have more chances to hit the shots more accurately and consistently which is very important if you wish to improve your skill.
This option is budget-friendly and perfect for beginners. And experienced players prefer the paddle's shape's simplicity. Its look is energetic, youthful, and professional. This look makes it different from regular paddles. The only obvious disadvantages are the warranty clause and that it doesn't include return shipping costs.
Amarey Pickle Ball paddle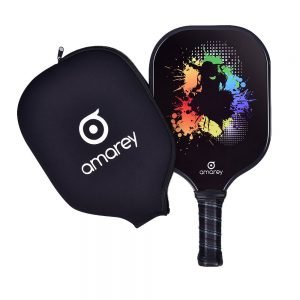 This paddle' core is made from a honeycomb composite. It is a light and durable paddle. Its grip is firm. The paddle offers power and control to the shots. Unlike wooden rackets, these paddles are very light. Hence they are easy to carry and play with. Its weight is 8 oz in total. This provides a great balance between power, control, and easy use. The handle's circumference is 4.25 inches. This helps players to shoot the balls with comfort and ease. The grip has a perforated cushion cover to absorb sweat.
Beginners should opt for this paddle because of its lightweight and because of the right balance between shots. The edges of the paddle are very durable and protected. This can be great for practicing. The design is stylish and sleek. The one disadvantage it has is that few players find the head of the paddle a little small.
The Ultimate Pickleball Paddle Buying Guide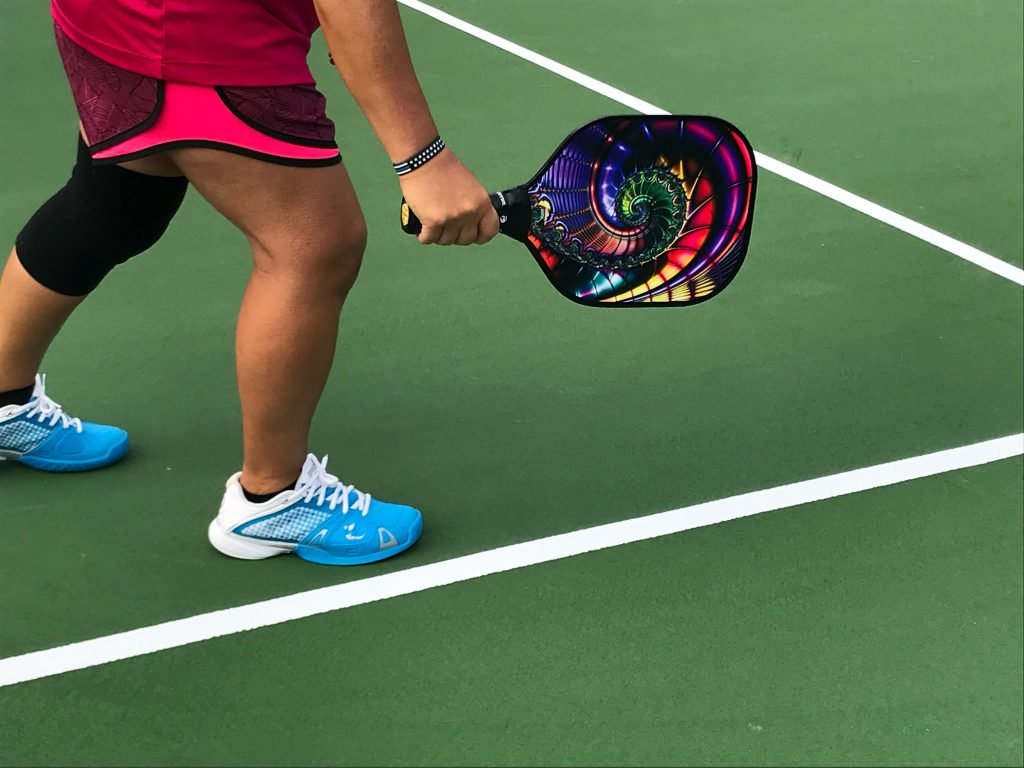 What are the most important 3 things one must consider when shopping for a Pickball Paddle?
More than 80 different kinds of pickleball paddles are sold.  Finding the right paddle as per your needs can be difficult a bit.  It would be best if one could be allowed to try the different kind of paddles available in the market before zeroing down on the best one that meets their requirements, however not all customers have the option to try it before buying it.  Given below are three main points one should consider while searching for the right pickleball paddle that one would want to buy. 
Price
A really good composite pickleball paddle price starts from $50.
Paddles have three categories:
Wood pickleball paddles which have a prices range from $10-$40
Composite pickleball paddles which have a price range from $40-$150
Graphite pickleball paddles which have a price range from $45-$155.
The ones that are least expensive are the Wood paddles. However, these are very heavy paddles that have a solid plywood core.  Hence the pickleball POP is not that wonderful which players prefer mostly.
It has been noticed that the customers who had bought the wood paddles, and tested composite paddles of other players, called to place their second order either for the graphite or composite paddle. 
For anyone for whom pickleball is new and they are looking to buy their first paddle, they must buy an inexpensive graphite or composite paddle before trying out the others.
Weight
One of the most crucial factors in deciding a paddle is its weight. These paddles weight range from six to fourteen ounces. Graphite or composite paddles mostly weight between six to nine ounces.  The feel of the paddle on a court when picked up and swung, is determined by the weight of the paddle.
 The paddle weight choice depends on ones comfort and fitness level, unless there are some pre-existing injuries. You will be able to hit the pickleball if the paddle is heavy, but this will not give you full control on the ball. Also note, a heavier paddle increases fatigue in the arm. This could also strain the elbow.  But, a lighter paddle though will give more ball control, it will not support enough drive. 
Grip Size
A correct grip size for the hand is important in order to play well with the paddle. A loose paddle grip or an extra large grip could injure the elbow, as the paddle could slip. Hence, whenever you have to chose between trying two sizes, always go first for the smaller size. These smaller grips support more action of the wrist which facilitate easy spinning of the ball and increased ball control. You can give powerful serves as a result of the wrist action.  This also helps those players who prefer quick changes from one hand to another where in during play they switch hands. A pickleball paddle with larger grips provides stability and is easier on the arm. Hence, it is very important to have the right size paddle that is just right for you. Pickleball players who are competitive mostly customize the grips of their paddle. They use an over-grip and re-wrap their paddle so that it will fit their hand perfectly.
Why there is a need for a pickleball paddle?
A comfortable pickleball paddle can transform the game completely!  Your confidence level will be increased leading you to win more games. It is vital to find the right paddle with the much needed attributes complimenting your style of playing. Hence the right handle size and weight, the material, and the hitting surface size need to be looked at before buying a paddle.  The following are the advantages for buying the right paddle:
More power
Earlier, to play powerful shots, players had to go for the heavier paddles.  Today, this has thankfully changed because of the pickleball paddle modern technology.  Graphite, composite and polymer material paddles are lightweight but can deliver a powerful shot.  One such example is The Selkirk Sport 200P L which is a composite material power paddle. If you use the latest pickleball paddle that is comfortable for you, you will be able to deliver powerful shots easily.
Less body strain
A pickleball paddle that is not comfortable and is wrong can lead to injuries. For instance, for someone suffering from tendonitis, a light weight pickleball paddle could worsen the condition for them. This happens because the light weight paddle needs more movement while delivering powerful shots.  The elbow and the wrist also could feel more strain as a result of this.
How to find the perfect pickleball paddle?
There are many things that one needs to consider while purchasing a good pickleball paddle!  In this section you will find few suggestions for pickleball paddle based on different types of players. Irrespective of your skill level, age, and also the shot preference, you will find a pickleball paddle that is comfy and great. 
Are you a beginner when it comes to pickleball?
For beginners and inexperienced players, a pickleball paddle that is lightweight and whose hitting surface is oversized, can be good for a start. Dinking will be made easier because of this. And one will have more chance when a fast shot heads towards them.
Check out the Engage Encore Paddle.  This has a composite paddle that is lightweight with fiberglass skin and polymer core.  It doesn't make much noise. Hence your family will not be annoyed much when you practice at home. Because it is USAPA approved, you can play competitively using the pickleball paddle as and when your skills keep improving.
Are you a lightweight or young player?
Players with less strength intheir upper body mostly are at an advantage when using a paddle that is nicely balanced and having medium weight.  This paddle is heavy enough to deliver easy powerful shots and light enough to hold on for longer periods.
Pro-Lite Rebel Pickleball Paddle is one of the best pickleball paddles for lightweight players.  This has a large QuadCore™ polymer surface area which is very strong, very quiet and lightweight.  This is beneficial when you want a quiet paddle and will be practicing for hours together.  The mid-weight paddle is light enough to be held for a longer period and heavy enough to deliver easy powerful shots. This paddle is approved by the USAPA and comes with a good manufacturer's warranty.  In other words, for a lightweight or young player, it is a solid paddle.
What type of shots do you like to go for?
You will understand your style of playing, the type of shots you prefer, only after a few months of playing pickleball. You could master dinking wearing down your opponents by delivering most accurate shots. Or, you could be a heavy hitter by delivering powerful shots right towards the back of the court thus putting a lot of pressure on your opponents. 
Do you want more power as compared to control?
 For those who prefer power over control, heavier paddles and those that provide a good amount of deflection are best. One such example is the Champion Pickleball Paddle. It is a graphite paddle whose inner core comprises of Nomex honeycomb. This combination supports deflection excellently and makes the feel snappy. And the best part is this weighs only 7.4 ounces.
Do you want more control as compared to power?
For those who prefer control over power, there are lightweight paddles that are super responsive and maneuverable . These are also known as the "touch" paddles which enable players to deliver consistent and precise shots.
A very good touch paddle is the GAMMA Premium Pickleball Paddle. Its face is made of fiberglass while the core is made of aluminum. This paddle is super responsive and fun to play with. The edge guard is narrow and the 4 inch grip is very comfortable.
What other racket games are you good at?
Experienced players of another sport that use a racket, will prefer a particular kind of paddle. In table tennis the bat used is lighter and smaller. Hence a table tennis player would prefer a medium weight or lightweight paddle as he or she will be used to using their wrists while playing the shots. They could opt for a heavier paddle if they wish to deliver more powerful shots.
For lawn tennis players, they are more used to using their arms and moving back and forth. Also their rackets are heavier that have a long reach. A perfect paddle here would be The Selkirk Sport Maxima 21P MXO. This paddle is made from composite polymer and its hitting surface is elongated. This paddle is most preferred by long tennis players as they can deliver out of reach shots easily. Also they are comfortable with it as it is a longer paddle. 
Where are you playing? Outdoors or indoors?
When you are playing outdoors, try to choose a UV resistant coating paddle apart from a strong edge guard paddle. This edge guard helps in protecting the paddle when dropped on an asphalt or concrete court. 
Are you planning to play pickleball professionally?
Pickleball is a sport that is very addictive!  Before you realize it, you will become a regular player and will be very eager to compete with other good talented players to test your playing skills. On becoming very serious about playing this game, you might prefer keeping different kinds of paddles to deliver different type of shots depending on the opponents, the weather and the game type. Some of the types are:
Doubles or Singles games
When playing along with a partner, one may follow a strategy that needs them to deliver certain type of shots more frequently.  For instance, you may be delivering targeted shots in between your two opponents or may be sometimes on the sidelines.  In such situations, a lighter paddle helps get more accuracy.
Distinctive style of your opponent
Many of the opponents have a particular play style. Delivering powerful shots to the back of the court or engage in fast volleys could be their style.  On recognizing their style of play, you will require a particular kind of pickleball paddle to respond to their shots successfully. For instance, a lightweight paddle helps combat your opponent's fast-paced volleying.
The weather
The weather conditions also can demand a particular type of pickleball paddle! On a very windy day, a heavier pickleball paddle will come in handy to get more power on the shots and keep them in bounds.