Pickleballlane is reader-supported. If you click a link on this page and make a purchase, we may receive a small commission at no extra cost to you.
Engage is the world's one of the topmost sellers selling pickleball paddles. It created a paddle core the type of which was never used by other companies manufacturing these paddles before. This pickleball paddle has come a long way. In the beginning, wooden paddles were made and sold. Today this paddle, the Engage Poach paddle is the only one whose surface skin has 6 layers.
Most paddles surface skin has one to two layers. This paddle created by Engage supports amazing ball responsiveness. And it gives enough power despite giving touch shots a soft feel. It has a Variable Release surface which allows it to do so.
The paddle's surface texture offers exceptional spins. It possesses a unique texture that is one directional. This helps the players to topspin the ball or backspin it.
The other paddles cores are white due to polypropylene which is used to manufacture the cores. But, this paddle's core is black because of the poly core that is used to create it. This is why Engage named it Control Pro Black. This enables the players to have control of the paddle while delivering slower shots for accurate placements.
Almost all of Engage professional players have switched to using this new pickleball paddle.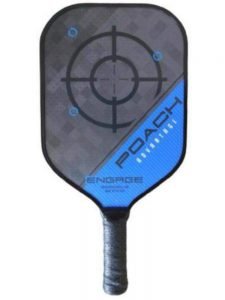 Pros of the Engage Poach Advantage Pickleball Paddle
For all skill levels :
The Engage Poach Advantage paddle is used by Gold medallists and can even be used by amateurs irrespective of their age or their level.
Strengths :
This new paddle has an advantage. The paddle's hitting surface is made of 6 layers of skin while many other high-end paddles only have one or two layers. Engage claims this paddle to be the most advanced paddle in terms of technology in the pickleball paddle industry. The texture helps in absorbing the shock from the ball. And the paddle has a touch that is very soft. This softer touch and the ball response enables players to have control on the ball which is beneficial especially while spinning it. 
Besides its new textured face, the "Control Pro Black" core is also used. The poly core turns black because of the chemical process which is used to make it.
Weight :
There are two sizes available in this design – The "Lite" weighing 7.5-7.8 oz. or normal weighing 7.9-8.3 oz. The player can opt for a paddle that gives a good balance between power and speed, or a paddle that has a soft touch but provides more strength while swinging.
Size and Grip :
Beginners will prefer this paddle. This is because it is lightweight and has a sweet grip. Players prefer a medium sized grip of 4-1/4″ .5the handle length is 5″ while the width of the face is  8″. This provides a sweet spot and a bigger surface area. The paddle is 8″ wide and16″ long.
Warranty
Engage offers its customers leading-edge paddles along with amazing customer service. All Engage paddles have a money back guarantee that is 'No question asked'. The time limit is 30-days. This means that even return shipping charges will be paid by Engage. This warranty policy applies only if the paddles are registered. The Warranty cannot be transferred. Only the original buyer can take advantage of this warranty.  They will still try and help you even if weren't the original buyer. They will first ask the original buyer to get their paddle registered. A limited lifetime warranty is also promised by Engage if there are manufacturing defects. The warranty does not cover standard wear and tear, negligence and abuse, or when the paddle has got modified after its purchase. Even if the graphics fade, the company doesn't consider it valid to get covered under the warranty so you have to be careful.
Cons of the Engage Poach Advantage Pickleball Paddle
Weight :
Few players could find the weight of this paddle's Standard version a bit heavy. Hence it is advisable to check the weight of the paddle before buying it. It may not be easy to adjust to extra heavy paddles.
Price :
For beginners, the price may seem a bit steep and out of their budget. It is expensive. Considering world champions prefer playing with it, the price does make sense.
Look :
The look of this paddle is plain. The design is very simple too. The paddle does not have any attractive graphics.
Conclusion
To conclude, the Engage Poach Advantage Pickleball paddle performance is like that of a professional and competitive paddle.   These have a warranty policy that is outstanding apart from it guaranteeing to return 100% of the money.  This will lead to satisfied buyers.  Players claim it to be one of the best paddle ever used by them for control, spin, and power. It comes with a complete package. Also check our ARD Fiberglass Pickleball Paddle Review.