Pickleballlane is reader-supported. If you click a link on this page and make a purchase, we may receive a small commission at no extra cost to you.
Prolite has one clear goal and that is to provide the best. This includes designing paddles that will suit all types of players, using the best quality of materials, providing excellent customer service and having a solid warranty policy apart from having an identity that is distinct. It is a winning combination. This company always strives to be different and the best. They believe in being a leader than a follower. This belief of theirs reflects in their products.
Supernova astronomically is the biggest explosion of stars that humans must have seen. Every blast is a super-powerful and extremely bright explosion of a star. Prolite Supernova Black diamond paddle has got a well deserving name. All its qualities match the actual Supernova. The performance of this paddle describes very well the play style of Simone Jardim, who is a Women's National Champion and ProLite Pro born in Brazil.
This stunning paddle has won 3 US Open Gold Medals. Its high qualities are desired by the best of the players in the Pickleball sport. The Supernova paddle is all set to be a dominating piece of sports equipment on any court that will help enhance the skills of the game. Its surface made from 100% carbon fiber, is good for enhanced spins and finesse shots. It's Quad Core honeycomb polymer gives it a long life and offers a lot of power to the shots.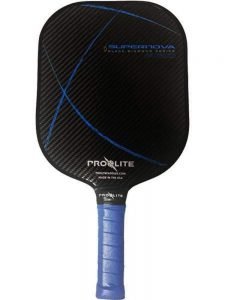 Pros of ProLite Super Nova Black Diamond Pickleball Paddle
Skill Levels:
This paddle is good for players jumping over from tennis to Pickleball. It provides a great combination of finesse and power owing to its face and core. It is one of the best high performing paddles in the Pickleball industry.
Strengths :
The Supernova paddle boasts of its Quad-core honeycomb polymer and its surface which is made from 100% carbon fiber. The surface offers ample pop. The polymer core absorbs sound. This leads to excellent ball control and play.
Look :
This is a black beauty. It is sharp, has clean lines and its design is bold. It will resonate with many players. This paddle is also available in other colors like Brilliant Blue, Radiant Red, Orbital Orange, and Galactic Green. The graphics on the paddle are very modern and are sure to make the player feel like a superstar.
Weight:
The paddle is evenly weighted despite its weight being termed as a medium. It weighs around 7.7-8.0 ounces. The grip is also of medium size which is very comfortable because of the contouring of its circumference. The polymer core adds a bit of weight which is good to hit powerful shots. Both these properties of the core and the handle make it possible for players to have ball control and power. The edge guard helps by providing a large sweet spot. This makes it a great paddle in the hands of Pickleball players regardless of the level of their skill. You can be a professional and enjoy this paddle or you can be a beginner who is just getting started and still be able to easily lobby off balls.
Size and Grip:
The length of this paddle measures 15 9/16 inches while the width of its face is 8 1/8 inches. The handle length is 5 ¼ inches which let the paddle have an extra-long face which is good for better reach. The length of the grip is 5 ¼ inches while its circumference is 4 1/8 inches. The paddle's contoured handle has Thin Grip and no-slip which is color coordinated.
Noise:
It is designed to have high-performance with the least amount of noise. Players who want to make less noise and play quietly will prefer this quiet paddle. It has been tested and approved by USAPA.
Warranty:
These paddles come with a 1-year Manufacturer Limited Warranty valid from the day of purchase. It also covers manufacturing defects within this period, caused by workmanship or materials used. There is also a 5-year No Dead Spot Warranty. It is up to Prolite to decide whether it would want to replace the defected paddle with a similar product or to repair it professionally with no cost incurred by the customer.
Cons of the Prolite Super Nova Black Diamond Pickleball Paddle
Weight:
Prolite Super Nova Black Diamond Pickleball Paddle is heavier than other medium weight paddles. Many players find it heavy when they are looking for ball control.
Look:
It is not for the serious, staid and stoic players. The Supernova Black Diamond is a little bit on the flashy side and this may not suit the older and staid players.
Price:
This paddle is considered high priced. Beginners may find it expensive. But players who are serious about the pickleball sport and wish to play in tournaments approved by USAPA will love its professional quality.
Warranty:
The warranty policy disadvantage is that the buyer should have an account with Prolite. They need to register one if they do not have an account already. Proof of purchase, invoice, etc is needed to benefit from this warranty policy. Damages caused after contacting other objects or materials are not considered valid for the claim.
Durability :
There are not too many complaints when it comes to its performance. However, many players complained that it cannot be used rigorously. They said it falls apart in no time after its purchase. The paddle doesn't last long.
Conclusion
This paddle was specially designed for Simone Jardim, women's national champ. She later won the 2017 US Open Minto Pickleball Championships. This paddle was used by her during that Championship. Promote Supernova screams professionalism from every inch.
Its long length enables players to hit the sweet spot and have the shots returned. The Black Carbon face allows the players to spin the ball. Its construction is solid while still maintaining an even balance necessary for powerful and light shots.
One should go in for this paddle because of its unique combination of control, power, quiet, and touch. It is not just beautiful but powerful too.
Also check our Pro-Lite Titan Black Diamond Pickleball Paddle Review