Pickleballlane is reader-supported. If you click a link on this page and make a purchase, we may receive a small commission at no extra cost to you.
Prolite's crystal clear goal is to provide players of every level with good quality pickleball gear. Their products are made of high-quality materials. And the best part is, Prolite offers excellent customer service. This is backed by their amazing warranty and their distinct identity.
The Rebel Powerspin paddle was manufactured and designed for players with a non-traditional, non-conforming attitude. The paddle's name says it loudly. The calm design makes the paddle look tame. But in reality, this paddle is a Powerhouse. Prolite's comfort contour grip is wrapped on its handle.
The Pro-Lite Rebel Composite Paddle has an attractive front with a great and varied color scheme of red, white, and black. This stylish paddle features offer all that a player will need to have a high-end performance. 
Owing to the use of Pro-Lites special polymer core which is its proprietary QuadCore, the Rebel composite paddle is very strong and durable. But, it makes no noise or infact very less noise during play. Many players don't like the noise created by paddles, especially by the paddles of lower quality. This paddle is good for them.
Its textured, high-quality fiberglass face lets the players spin the ball with ease while delivering shots. The total length of the paddle is a good 16" which provides players with enough reach to respond to tougher shots. Theperfect combination of power and touch is possible with this paddle because of its polymer core.
Now while the paddle has a long face, its width is little extra narrower than "wide body" paddles. An example of a wide body paddle is the Z5. Also the paddle's edge guard is low-profiled so in will interfere when you are dinking. This also gives you extra surface area to play with.
The grip of this paddle is 5" long and comfortable. This is really loved by former tennis players. It is of medium weight weighing around 7.8-8.2 ounces.  Its weight along with the multi-faceted polymer core gives a good overall balance to the paddle.
Any player who plays Pickleball using this paddle will find its weight comfortable. This serious looking paddle has a great number of features needed for high performance.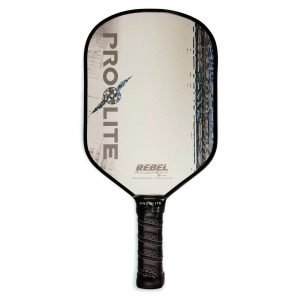 Pros of PROLITE Rebel PowerSpin Composite Pickleball Paddle
Skill Levels:
This paddle is high in performance and best suited for women, men, and junior athletes. Players with different playing styles playing at different levels are confident when playing with this paddle. It is the perfect paddle for those looking for power, spin, balance, and touch. It is a great choice for intermediate players, beginners, and advanced players.
Strengths :
The Rebel Power Spin paddle has an inner Quad Core polymer honeycomb and its surface made of textured fiberglass. This surface offers excellent spin control. Its edge guard gives a soft feel to the shots.
Ideal Weight :
This paddle weighs around 7.8 ounces. However, this could also range from 7.5-8.1 ounces. Irrespective of this, the paddle feels fine and its users are able to answer any type of shots quickly.
Size and Grip :
The paddle is 7 13/1 inches wide and 16 inches long. As a result of this, the paddle has an extra-long face offering better reach. The grip circumference is 4.5 inches and it is 5 inches long.
Look :
You can choose from a variety of designs based on your playing style. The latest model is a rugged blue in color with a little green. You have the following color options: Cream with a red stripe, Cream with a gold stripe, Cream with a blue stripe, and Cream with an orange stripe. These combinations make the paddle look very professional. Above all, its graphics make its users feel like a superstar in their own way.
Noise :
It makes the least noise and hence is preferred by players who want the noise level remains to a minimum. It is a quiet paddle.
Warranty:
All Prolite paddles come with a one year warranty from the date of purchase. The warranty policy covers any defects caused during the manufacturing stage be it because of workmanship or the quality of materials used. Prolite decides whether the defective paddle needs to be replaced or professionally repaired. They do not charge their customers for this.
Cons of the Prolite Rebel PowerSpin Composite Pickleball Paddle
Weight :
This composite paddle is extreme medium weight. Due to this, players often find it heavier.
Look :
The look of this paddle is a little flashy which may be preferred by young players and those that focus a lot on their style and appearance. Older players may not like it.
Price :
Its pricing is a bit high. But professional pickleball players prefer this paddle because of its features. It qualifies under the USAPA guidelines.
Warranty :
It has a solid warranty period, but users or buyers need to have a Prolite account or they will have to register one. Also, purchase proofs, invoices, etc need to be produced. Defects caused after getting in touch with other objects, normal wear and tear, dents, chips, scratches, and cracks are not covered by this warranty policy.
Conclusion
The paddle may be seen as a rebel but it is very friendly to play it. It passed all the USAPA testing and meets their requirements and specifications. It is a professional paddle.
The textured face of the paddle offers excellent spin. The paddle's length enables players to respond to shots very efficiently by hitting the sweet spot. Its construction is solid and balanced. Perfect for those looking to have control over their shots.
Overall, it is a quiet paddle that is durable and strong. It is comfortable to hold and its cushioned grip absorbs the vibrations of the shots. It is indeed a unique combination of control, power, quiet, and touch. It is a powerful beauty. Also check our ProLite SuperNova Black Diamond Pickleball Paddle Review.