Pickleballlane is reader-supported. If you click a link on this page and make a purchase, we may receive a small commission at no extra cost to you.
ARD makes sure their recreation equipment is inspirational and innovative. It is a very dedicated company. It took them 3 and a half years to develop this type of pickleball paddles. Right from conceptualization and design, selection and testing of materials, and innovative engineering, their only goal was to create a paddle whose quality and playability was above all. The combination of innovative design, quality materials, the exclusive throat section, along with material precision help develop a paddle that players would be proud to play with. As per ARD, players on just holding the paddle will realize that this paddle is different from the others.
This company believes that ARD Graphite GF200 and ARD Fibreglass HF100 are trendsetters in the pickleball industry. They stay true to their motto "Playing is fun. Winning is more fun!". They make sure their players play only with the best pickleball equipment that will deliver the best results. Winning is not guaranteed by them as that depends on the player's skill and ability. However, they can guarantee that their designed paddle will not be the reason for the player's defeat.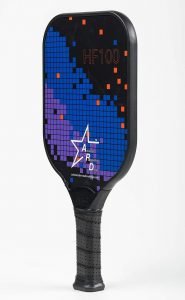 Pros of the ARD HF100 Fiberglass Pickleball Paddle
For all skill levels 
Any level of player will be comfortable using the ARD HF-100 paddle. This will allow them to play with full confidence. The simplicity of its shape is preferred by seasoned players. Beginners love the hitting surface because it is wider. This allows them to play well despite them being beginners on the pickleball court. The HF100 Fibreglass is a good quality paddle. It is durable and will last until you become a professional. Beginners and players whose playing style depends on touch and feel will find this paddle as a great choice. You can play with it easily. It offers good power and control over every shot. The pricing point of it is affordable. It is budget-friendly. New players with tennis experience would find it perfect.
Strengths 
The core is made of polypropylene honeycomb which helps absorb sound and shock. The paddle's face made from woven fiberglass offers tremendous comfort and control. The poly-acrylic bumper designed by ARD and the poly-carbonate grip mold helps absorb vibration. It also adds feel to every hit.
The Fiberglas HF100 has a medium weight of around 8.2 ounces. Its grip size measures 4 3/8" while its length is 15 1/4". The width of the paddle is 7 5/8".
It has a specially designed advanced throat section and a grip shape that is designed ergonomically. This allows you to feel your paddle face angle. Unlike most paddle's that connect the face of the paddle to the grip directly without any extra section, this paddle's throat section connects the grip to the paddle face. Here the throat acts like the neck connecting the paddle's head to its body. This structural component improves stability by making the paddle's sweet spot larger. Apart from this, it also helps players play consistently and reduces vibration of the shots. This feature is not present in any other paddle. This company also boasts about the lightness and quietness of its HF100-B paddle.
Control 
This paddle known as the ARD (Advanced Recreation Design) fiberglass  HF100 is of medium weight. The light/medium weight offers ball control to the maximum with a very little amount of vibration. If you like playing controlled shots then this is the right paddle for you. It can also help you maneuver your opponents into making mistakes by playing long shots. The HF100 paddle provides the player consistency, accuracy, and a great touch while placing the ball. If a player is looking at improving their shot control thoroughly, this paddle is the best paddle for them.
The HF100 paddle does offer a little extra touch without affecting the speed. Thus enabling you to control your shots and your opponent. These pickleball paddles basically give you the power needed to be in control of the point. Be it dinking or blasting a shot, this paddle will let you do so efficiently.
Look
This is a very pretty looking paddle. Its cosmetic approach is loved by youngsters. It looks youthful, professional and energetic because of the graphics. This makes it stand out more and in a better way than the original traditional paddles. This paddle is available in 4 primary colors: red, blue, green, & yellow. The dominant color is Blue that has orange and purple pixels.
Price
Considering the time spent in designing and developing this paddle, players feel the price of this paddle is a steal. ARD spent 42 months in making it. It used the best quality of materials and did not compromise on its design. And still, the price is nothing compared to the effort gone in making this beauty.
Warranty
In case of a manufacturing defect, ARD guarantees to repair or replace the paddle or refund the entire cost after deducting the handling and shipping charges at their discretion. All this is possible only if the player brings it to their notice within 90 days of purchasing it. The customer has to provide proof of purchase.
Cons of the ARD HF100 Fiberglass Pickleball Paddle
Warranty Clause
Apart from the warranty clause, this paddle is all good. Shipping and handling charges are not included in the refund. Normal damages caused due to neglect, abuse, and modification are not considered eligible for a warranty. It also does not cover damages caused by weather, scratches, abrasions, and chips.
Conclusion
ARD does not manufacture paddles in haste to meet the crazy demand for pickleball paddles. It prefers being patient and putting in enough time in the paddle design and construction. They have always focused on designing something unique. Their paddles are high on playability and quality. Also check our Amarey Pickleball Paddle Review.