Pickleballlane is reader-supported. If you click a link on this page and make a purchase, we may receive a small commission at no extra cost to you.
Those wanting a paddle that is quiet and provides lofty control and power over their shots will like the Prolite CRUSH Power spin. It has an oversized face to its benefit. The paddle is attractive, edgy and powerful. It is best for players wanting to crush their opponents.
Prolite started in 1984 and ever since has been revolutionizing the pickleball sport and industry. The company name was originally ULTRA-LITE Paddle Co. This name later changed to Prolite. However, their commitment to providing high-quality products still exists.
Prolite has very clear goals. Their main focus is to produce paddles that will benefit players of all levels having different playing styles. They make sure they use only the best of material available. And their customer service is excellent. They also have a distinct identity and a solid warranty. Prolite believes in being a leader instead of a follower. This belief of theirs can be seen in their distinct identity and their products which look and feel unique.
The company is a Pickleball ambassador in a true sense. They make sure to give back to the community. For this, they teach how to play Pickleball at various levels. They also conduct free clinics, sponsor state, and regional tournaments and grass root clubs. By doing this, they help this sport to grow.
Prolite Crush PowerSpin Composite Paddle got its name after Prolite's proprietary paddle surface.  This surface adds more "grab" to the paddle. Spinning is encouraged by the paddle's textured surface.
An amazing blend of spin, power, and control is seen in this paddle. Its shape is similar to the Magnum paddle shape which is a very successful Prolite shape. The main purpose behind designing this paddle was to help players play shots by spinning the ball a bit more using the SPINtac surface.
The new face made from fiberglass creates a very evenly responsive surface. This Powerspin paddle weighs around 7.4-7.8 ounces. Its grip is small which is good because it offers added control on the shots.
This paddle is approved to be used in communities that have noise restrictions. And the USAPA/IFP approved it to be used for tournaments.  This paddle is also manufactured in the USA like all the other Prolite paddles.
The measurements of its grip are 4 1/8″. This grip size will fit perfectly in the hands of an average player.  The paddle has a No-Slip Thin Grip from Prolite.  For those looking for a versatile paddle that offers help in spinning the ball massively, this Prolite Crush Powerspin Paddle is worth taking a look at.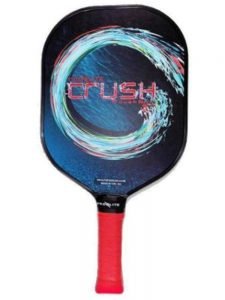 Pros of Prolite Crush Powerspin Pickleball Paddle
Skill Levels:
This is a high-performance paddle which can be used by women, men, and also by athletic juniors. All players irrespective of their skills like this paddle. They find it easy to play with. It helps them play confidently, unlike other paddles that need time to get comfortable with. This paddle is apt for players looking for a paddle that can offer balance, touch, power, and spin.
Strengths:
The paddle does have an attitude because of its construction. It has a QuadCore polymer honeycomb core. The core is between two sheets of fiberglass panels which are strong and durable. This technology strengthens the paddle to face any challenges on the pickleball court. The paddle's surface supports spin. Its Prolite Micro Edge guard enhances the balance. Shots can be played with more finesse because of this.
Ideal Weight:
This paddle weighs around 7.6 ounces. However, the weight could also be between 7.4 – 7.8 ounces. The actual weight of this paddle allows the players to respond quickly to any shot.
Size:
The Polite Crush is 15 1/2″ long and 7 7/8″ wide. Its grip size is perfect for juniors and women. For bigger hands, an overgrip could be added easily the circumference of the grip is 4 1/8" while it is 5 1/4″ long.
Look:
It is a very good looking paddle. Good enough to be framed and admired. Its wide body shape and flashy looks make it very attractive. Its color and graphics are very striking. Its features boost the player's egos especially for those who like expressing themselves.
Prolite Crush has 3 different looks: CRUSH Surf look, Skate look, and Snow look.
Warranty:
All the paddles come with a standard Limited Warranty from the manufacturer of one year from the purchase date. Apart from this it also guarantees within this period in case of abnormal defects caused by poor materials and workmanship. It is at the sole discretion of Prolite to either professionally repair the defective paddle, or get it replaced with another similar product. The customer would not be asked to pay again if this happens.
Cons of the Prolite Crush Powerspin Pickleball Paddle
Weight:
This paddle's weight is a little heavy when compared to the regular medium size. Many players find this heavy. And it is a little thicker because of its half-inch polymer core.
Look:
Serious players will not like it. This paddle is a little flashy. Older players will also not like it.
Grip:
Players feel that the paddle's trim may come out after a few uses. For beginners, this means additional costs as the warranty policy doesn't cover this.
Warranty:
When this paddle is being purchased, the buyer must have a Prolite account or they need to create one if they don't have it. Without this, the warranty policy is of no use to them. Plus the proof of purchase, invoices, etc need to be handed over while claiming under the warranty. Without photographic evidence, the claim will not be processed. If the photos are not close-ups and are unclear, they will reject the claim. Also, the return shipping charges have to be borne by the buyer. If the paddle gets damaged after coming in contact with other objects or materials, it is not eligible for a claim under the warranty policy. Chips, cracks, dents, and other normal wear and tear are not considered for warranty.